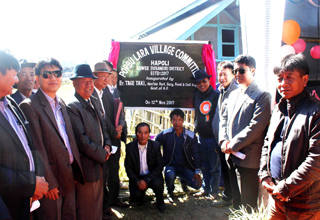 ZIRO, Nov 12: Local MLA cum Parliamentary Secretary for Food and Civil Supplies Tage Taki on Sunday inaugurated the newly created Porbu Lara village under Diibo Zilla Segment in the outskirts of Hapoli town. There are 77 households in the village in total.
"The Porbu Lara village is in its infant stage can be developed into a model village, if the dwellers are ready to spare a bit of their lands for construction of roads and drains, said Taki in his inaugural speech.
An article may be added in the bye laws of the village committee in this regard for practical implementation, he opined.
He advised the members of the village welfare committee to work hard towards development of the village and to make it a model one.
Taki asked them to prepare a master plan with the help of executing agency for making it easier to bring development in future.
The local MLA also disclosed about his project proposal to the government for minimizing fire mishaps in Apatani villages, which is likely to be finalized this year.
Responding to a memorandum, Taki assured to construct a water tank and provide a separate transformer for the village within March, 2018.
EAC Mobia Tai, Secretary Hapoli Bazar CommitteeMihin Doilyang, Ex-DVP Bamin Kano, Porlu Lara Village Committee Secretary Michi D Chobing and Chairman Dulley Lailyang also spoke on the occasion. A colourful cultural programme also marked the inaugural program.