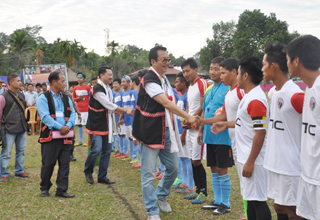 ROING, Nov 27: 'The government believes in equal and parallel growth of all communities and religions in the state', said Deputy Chief Minister, Chowna Mein during the inaugural of the Christmas Football Trophy 2017 at Rayang Village in Roing on Monday.
Addressing the drug menace prevalent in the eastern belt of the state, Mein called for concerted efforts to tackle the menace and also to find an alternative source of livelihood.
Highlighting that agriculture and its allied sectors can boost the economy of the state, he informed that a three-day meeting on agriculture and horticulture would be called soon to discuss the suitability of the agriculture and horticulture crops in various districts of the state, and to introduce cultivation of such crops as per the suitability index.
Citing improvement in connectivity with three major bridges, namely the Bhupen Hazarika Setu, Alubari Bridge and Lohit Bridge, he urged the people of the area to take full benefit of the connectivity by taking up income generating activities.
On developing border areas, Mein said that the state government has already sent a proposal for a frontier highway to the central government.
He also lauded the contributions of the Christian Missionaries in the field of education and social development, especially in the early stage of Adi Literature.
Responding to a memorandum submitted by the Rayang Dolung Kebang, he assured to take up the upgrade of Rayang Middle School to secondary school level and also for water supply to the school.
Rajya Sabha Member of Parliament, Mukut Mithi announced to provide fund for construction of a rostrum from his MP LAD fund for the year 2018-19 in the Rayang Football Ground, while Parliamentary Secretary for Planning & Investment and Personnel, Chau Zingnu Namchoom suggested introducing commercial cash crops as an alternative for poppy cultivation to boost farmers' economy.
Parliamentary Secretary for WRD and Art & Culture, Gum Tayeng lauded the organizers and called on parents to encourage their children to participate in games and sports and make it a profession.
Chairman of the Christmas Football Trophy Organizing Committee, Gagan Perying highlighted the objective of the tournament and informed that eight teams are participating in the tournament, while President Dibang Lohit Baptist Churches Association, T Millang narrated the history of Christmas celebration of Baptist Church Rayang .
He also informed that this year, the oldest church of the area is celebrating its 60th Christmas.
Earlier, Mein also visited Baptist Church Rayang and kicked-off the tournament.