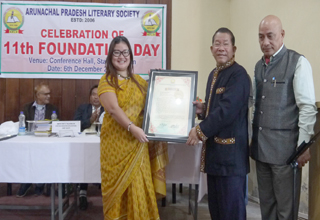 APLS celebrates 11th foundation day
ITANAGAR, Dec 6: Though Arunachal Pradesh has been following NCERT text books, steps would be taken soon to print school books on the enchanting natural beauty, history and rich cultural heritage, for the students to know their state and its uniqueness, Education Minister Honchun Ngandam announced on Wednesday.
In his address to 11th foundation day celebration of Arunachal Pradesh Literary Society (APLS) at J N State Museum here as chief guest, Ngandam gave this commitment while responding to a plea of APLS president Yeshe Dorjee Thongchi.
Announcing that literary activities would be made mandatory in schools on every Saturday, he disclosed that he has already directed the department to republish the poem 'Donyi-Polo, Donyi-Polo aasman se kuch to bolo' and on moral education, which were in circulation in the past.
He has also exhorted all senior district officers including DCs, SPs, DMOs, DFOs etc to take weekly awareness programmes in all education institutions. "The teachers alone should not be left to teach as it is a joint responsibility of the society", he reasoned.
Novel, short stories, poem, news and even painting keep records of social activities, he said terming all of them as historians. Changing young mindset through proper education alone could herald the most desired change, he argued.
Appreciating former research director Parul Dutt for his book on Wanchos, he informed about his yet to be published book on Wanchos. He also expressed his desire to be an APLS member.
Stressing the need for prevailing multi party political system, the cause various avoidable problems, he suggested for debate to bring the changes. He assured to take up with the GoAP on a plea for setting up of a publication department to encourage and print creations of state's numerous upcoming writers and poets.
Further, the APLS honoured Assamese literary giant Gnan Pujari, who was conferred Sahitya Academy Award-2017 in recognition for his five poetry books, translating few famous dramas including Chandrachur (Assamese) from dramatist Habib Tanvir's original Hindi drama Charandas Chor, state's litterateur Dr. Jamuna Bini Tadar for getting PhD from RGU on her thesis 'A comparative study on plays of Mohan Rakesh and Girish Karnad' and published in as a book – Do Rangpurush-Mohan Rakesh:Girish Karnad -, first book by any Arunachalee on literary criticism and Taro Sindik, Kamki Donyi-Polo Govt College assistant professor, who received Sahitya Academy Yuva Puraskar-2017 for his Hindi poem book Akshero Ki Vinti.
Mishmi-land Musings, an anthropology of creative writings of Lohit Youth Library, Voice of Silence, a resonance of love, an English poem book by Nabam Serbang and Na Themose Hokgo, a poetry book in Bishnupriya Manipuri by senior journalist Ranjit Sinha were released by Ngandam, Thongchi & APLS working president Dr Tage Tada and noted litterateur Mamang Dai.
Applauding school students Bialu Kri and Kishalu Kri, who recited their lively and lucid short stories, Thongchi, in his address, said that they would become noted short story writers in future if they maintain their tempo. There creativity are seeds today and will yield fruits tomrrow. He termed Sabang as APLS dicovery whose poems are lucid and heart toouching while made specail mention of a teacher who was instrumental for library movement in Lohit district which has spread to Namsai and Anjaw disricts too.
Pujari, in his address as guest of honour, described his attendace like a dream come true which would go down the memory lane. Poem is a medium of expression, he said while reciting noted poet Ajit Baruah's Parijat Fool.
Speaking on Tumpak Ete Memorial Lecture, RGU Hindi Assistant Professor Viswajeet Kumar Mishra said that Indian Literature should not be limited to single language and NE India is the proof for enriching national literature through multi-lingual contributions.
APLS general secretary-cum-research director Batem Pertim and Dr Tada also spoke.