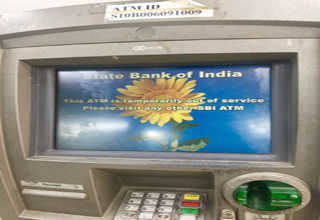 Staff Reporter
ITANAGAR, Dec 16: The SBI's automated teller machines (ATM) in Akashdeep market and other sectors are still out of order, even as the bank's authorities struggle to make ATMs operational in the Capital Complex which were vandalized by miscreants in October.
About 15 of the 72 ATMs in the Capital Complex were rendered inoperative after a series of vandalism which took place in October.
According to the SBI's regional office authorities, the repair work will take time as currently a lone engineer is engaged in the repair-work, while parts of the ATMs are being procured from Kolkata(West Bengal).
"The damaged ATMs at Zero Point and Ganga,and the one near Dera Natung Government College have been repaired and are functioning properly now," they informed.
Speaking to The Arunachal Times, SBI Regional Manager, Jogeshwar Swargiary, said that apart from the damaged ones, all other ATMs are functioning properly.
"However, the one in Akashdeep market needs some more time for repair. Until then customers would have to bear with the inconvenience," he said.
Apart from this, there is already the growing problem of cash crunch in the state capital, resulting in a halt on currency remittance.
SBI authorities have informed that the state SBI branch bank currently has only 30 per cent of cash reserve as they have not received any feed from the Reserve Bank of India (RBI).
"We have sent our indents to the RBI, but it has not been providing us sufficient cash, giving rise to cash deficit in the state capital for the past three-four days," the SBI authorities lamented.