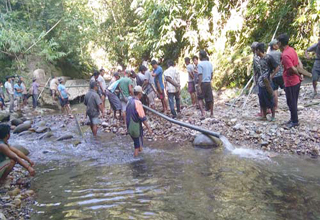 [ Litem Eshi Ori ]
RUKSIN, Dec 28: Villagers of Debing village in Ruksin circle of East Siang district repaired the PHED water pipelines in the village by themselves on Wednesday.
Water scarcity has become a perennial problem in Debing village. Like previous years, this year too, the villagers have been facing acute shortage of drinking water.
The water supply project implemented in Debing was sanctioned under the National Rural Drinking Water Programme in December 2012 at a cost of Rs 71.36433 lakhs.
The villagers have expressed concern over the water scarcity in the village.