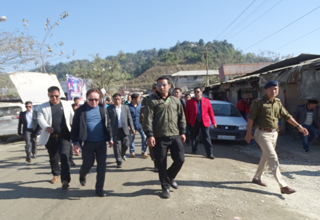 DOIMUKH, Dec 29: Urban Development Minister Nabam Rebia has sought the cooperation of the local people in upgrading the road infrastructure for all-round development of the state.
He said this after laying the foundation stone for the renovation and upgrading of the Bage Tinali-Doimukh and the Kola Camp-Harmuty roads here on Friday.
Expressing dissatisfaction over encroachment on the right of way, Rebia said, "Doimukh needs development and the local people should extend their support in development activities like constructing and upgrading roads."
He requested the Papum Pare deputy commissioner to constitute a committee, including GBs and panchayat members, "for construction of road without any hindrance."
He also said he is "pursuing the higher authorities" regarding the proposal to turn Itanagar into a smart city.
Deputy Commissioner Tai Kaye said that the Harmuty-Gumto road, which is the lifeline of the people of the Capital Complex during monsoon, should be accorded priority.
He said there is no provision of road compensation, and that people need to support the development activities of the area.
He also requested the Doimukh SDO to ensure "smooth construction of the road."
"Although the road construction and upgrading activities started in September this year, the progress of work is very slow due to obstruction from some people and encroachment on the right of way," said contractor Nabam Tullon.
He appealed to the administration to make the roadsides free from encroachment for construction and maintenance activities.
Doimukh SDO Ibom Tao presented a brief on the road from Harmuty to Gumto and Bage Tinali.
Among others, NHIDCL Deputy General Manager, Hibu Tadey, also spoke.