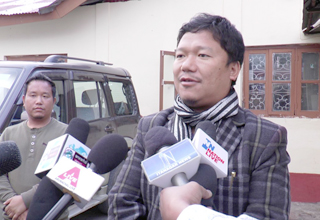 Staff Reporter
NAHARLAGUN, Jan 6: Returning disappointed from the joint high-power committee meeting on the vexed Chakma and Hajong issue held in New Delhi on Thursday, All Arunachal Pradesh Students' Union (AAPSU) President Hawa Bagang informed that the officials of the Ministry of Home Affairs were uncooperative on the issue.
The AAPSU team which had gone to attend the high-power committee meeting returned to the capital on Saturday and informed that the meeting was a letdown.
Bagang said that the AAPSU team held discussions with central government officials and Chakma-Hajong representatives, and claimed that the intention of the Chakma-Hajong representatives leaned on acquiring citizenship with the condition that they could also acquire land rights in the state.
"We were clear with what the people of Arunachal wanted and told them that the indigenous people will not accept the demand for citizenship or land rights," Bagang said, adding that they were unable to hold a healthy discussion because of the unabashed demands.
He informed that the state government was represented by Home Secretary GS Meena, but that neither the AAPSU nor the home secretary was given the proper opportunity to place their points before the Centre.
"We were only able to place a few concerns of the people regarding the refugee issue and not much, which is why after a heated debate and much persuasion, we have decided to hold the next meeting here in Itanagar to take a final decision," Bagang said.
The joint secretary from the Ministry of Home Affairs is expected to arrive in the state in February, which is when the AAPSU will place its final agenda.