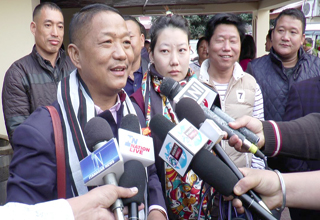 Staff Reporter
NAHARLAGUN, Jan 6: Parliamentary Affairs Minister Bamang Felix has assured that the state government under the Bharatiya Janata Party (BJP) is stable and strong.
Speaking to reporters at the helipad here on his arrival from New Delhi on Saturday, Felix, who is also the government spokesperson, said that the reports of instability in the state government were untrue.
"We can't say what is going on between the PPA and the Congress, but the BJP here is stable and our Chief Minister Pema Khandu is still going strong," he added.
Meanwhile, Felix, who was in New Delhi for medical treatment for some time now, assured that no work or files were left pending while he was away from Itanagar, and said that he would resume office from Monday.