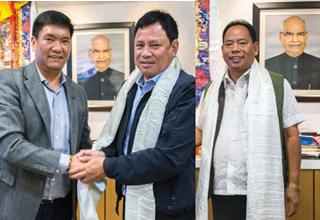 ITANAGAR, Jan 6: Chief Minister Pema Khandu advised the newly elected BJP MLAs, Biyuram Wahge (Pakke-Kessang) and Kardo Nyigyor (Likabali), to live up to the expectations of their electorates and become inalienable assets for the party.
The MLA duo from Pakke-Kesang and Likabali had called on the CM at his office here on Saturday.
The chief minister congratulated them for the party's resounding victory in the state and welcomed them with traditional scarves.
"People of the two constituencies have shown that they are with good governance and development. They have witnessed the changes brought in by the BJP government and have therefore bestowed their confidence on the party under the leadership of Prime Minister Narendra Modi," Pema said.