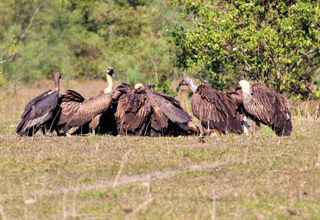 PASIGHAT, Jan 17: Three critically endangered vulture species were re-recorded in the Daying Ering Memorial Wildlife Sanctuary (DEMWS) at Pasighat in East Siang district recently by a team of researchers from the Rajiv Gandhi University (RGU).
The team comprising PhD scholars Jacob Ngukir, Abprez Thungwon Kimsing, Talo Biju and Junior Research Fellow (JRF) Ripin Taba recently conducted a survey on population of vultures in different parts of the state, wherein the team found the critically endangered Long-billed vulture (Gyps indicus), Slender-billed vulture (Gyps tenuirostris) and Oriental White-rumped vulture (Gyps bengalensis).
These are listed under the International Union for Conservation of Nature's (IUCN) red list of endangered species due to their declining population in the country, informed Assistant Professor Dr Danial Mize of Department of Zoology, RGU.
A non-steroidal anti-inflammatory drug called Diclofenac, which is commonly used for treatment of inflammation in cattle, is 97 percent responsible for the declining population in case of Gyps indicus and Gyps tenuirostris, and 99 per cent in case of Gyps bengalensis, he said.
The Daying Ering Wildlife Sanctuary is the only region in Arunachal Pradesh where the vultures are regularly sighted due to its favourable conditions.
He, however, said that a very less number of the individual CR vultures were recorded during the survey. He hoped an increase in number of vultures in the sanctuary due to its favourable habitat condition.
The survey was conducted by the Ecology and Wildlife Biology unit under the supervision of Dr Mize and in cooperation with the Pasighat Forest Division and DEMWS.