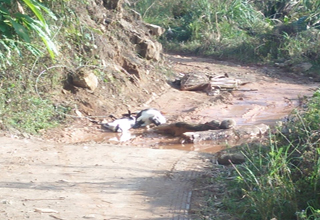 [ Karda Natam ]
TALIHA, Feb 18: Anger is running high among the people of Taliha Payeng area in Upper Subansiri district after a prominent priest was electrocuted to death by a live wire in Paktung village in Taliha circle on Thursday.
The deceased, Diknia Kamda, was the local priest of the village. He is survived by his wife and a son.
The people of the area informed that the 11 kv live wire had snapped and was lying on the road since 2 February. They said the matter was brought to the notice of the power department in Taliha subdivision thrice on 2 February and 4 February but there was no response from the department. The locals allege that the priest died as a result of the department's negligence.
Attempts by the deceased's relatives to meet the officers of the power department, as well as the deputy commissioner, ended in failure as all the officers are reportedly out of station. They said the officers are probably in Itanagar as usual.
The deceased's relatives and members of the Buning Welfare Society (BWS) also attempted to meet the officers at their private residences, but the officers were absent, they said.
A team from the Taliha police station visited the site of the accident, and the police are currently investigating the case.
Meanwhile, the BWS has lodged a complaint against the department's officials and placed a charter of demands, seeking immediate compensation for the bereaved family and suspension of the officials concerned for failing to act on repeated complaints.
It said it would launch a democratic movement if the government fails to meet its demands.