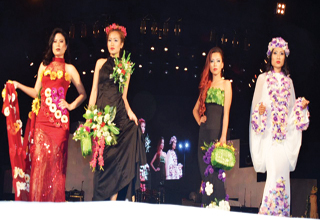 Staff Reporter
ITANAGAR, Feb 22: The final day of the Statehood Day celebrations saw a new variety of fashion show with Nasima Begum Lahkar from Guwahati presenting a floral fashion show on Thursday here at the IG Park.
The models showcased a lovely arrangement of real and artificial floral attire and accessories -all designed by Lahkar -a professional florist from the Ministry of Thailand.
Lahkar, who has already exhibited her art internationally at Thailand and Myanmar, says that the intent behind the floral fashion show is to exhibit that flowers can be used for more than just sitting inside vases.
"Flowers can be used for a variety of purposes, but their fragility concerns people and they keep them safe in a vase.
"As a professional florist, I want people to learn the different ways to incorporate flowers in other items, which is why I particularly used the umbrella here today as a prop and gave it a completely new look", she said.
With Arunachal known for its orchids, Lahkar said that there is tremendous scope for people to actively take up floriculture as a profession and promote the orchids of the state in new ways.