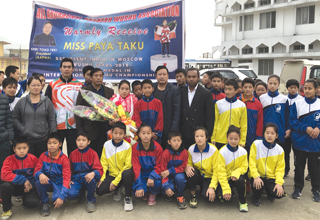 ITANAGAR, Feb 24: In a rare feat, Arunachal wushu player, Paya Taku won the gold medal in the girls' International Wushu Championship held at Moscow, Russia from 17 to 21 February.
Paya Taku represented India at the International Wushu Championship 2018.
Taku won the gold after defeating Ukraine's Dmitri Alina in the final bout in the below 48 kg junior girls' Sanda (combat) category.
Earlier, she had won a silver medal in a similar international Wushu Championship in the year 2016.
Paya Taku, a class XI student of Green Mount School in Ganga here is a regular trainee of the Sangay Lhaden Sports Academy at Chimpu under wushu coach M Premchandra Singh of the Sports department.
She also underwent a month's special coaching at the SAI Centre in Imphal, Manipur from 15 January.
Meanwhile, members of the All Arunachal Pradesh Wushu Association (AAPWA), led by its president Toko Teki, along with Sports Director Tadar Appa accorded a warm welcome to Paya Taku and her coach at the Naharlagun railway station on Saturday.
Congratulating Taku, the AAPWA said, 'It is a matter of great pleasure and pride that for the first time a wushu player from Arunachal won a gold medal in the international arena. This is the highest ever achievement of all the AAPWA', a release said.