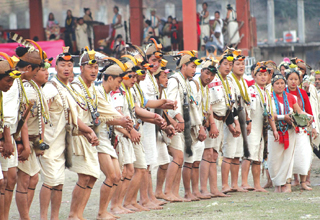 YAZALI, Feb 25: Yazali began celebrating 50 years of Nyokum Yullo on Saturday with rituals and prayers of well being for mankind and nature.
The golden jubilee celebration witnessed an organic theme with all stalls, celebration platforms, bridges, and other materials made from items found in nature.
A large number of visitors have also arrived from across the nation and from abroad, and have been provided accommodation at the Yazali namlo to witness authentic Nyishi culture and tradition.
Speaking on the occasion, chairman of Yazali Nyokum Yullo celebration committee Er Toko Jyoti briefed about the concept of the festival.
"We are celebrating Nyokum using natural items and avoiding plastic. It is our way of encouraging organic products and also maintaining rich traditions and ethnicity," said Er Toko Jyoti.
Central Nyokum Committee chairman Bengia Tolum hoisted the Nyokum flag, and highlighted the importance of safeguarding Nyokum Yullo.
He also appealed to the Education department through Education Minister Honchun Ngandam, who was present on the occasion, to formulate methods to educate children about festivals, culture and tradition of all the tribes in text books from primary to secondary level.
The celebration was also attended by Agriculture & Horticulture Minister Wangki Lowang and Parliamentary Secretary Phosum Khimum.
Speaking on the occasion, Ngandam, Lowang and Khimum requested the youths to preserve, safeguard and promote the indigenous tribal culture and tradition of the community.
Chief patron of Yazali Nyokum, Likha Saaya also spoke on the occasion.
The ceremony was attended by Nyishi Festival Committee chairman Tarin Dakpe, Tarh Tabin vice president NES, and Toko Kena president ANSU.
Continuing the celebrations, the famous Buya dance competition was the main attraction of the third day, where various dance groups from different Panchayat segments and villages participated.
Attending the programme as special guests, state BJP president Tapir Gao and Parliamentary Secretary (Health & Family Welfare) Phurpa Tsering lauded the Golden Jubilee Yazali Nyokum Yullo Celebration Committee for upholding the age old custom and tradition in its natural form, and called for preservation of the same.
They exhorted the youths to carry forward the ancestral practice for the coming generation, saying one's real identity lies with their culture and tradition.
The day-long celebrations marked with various other colourful cultural presentations from various cultural groups.
Among others, present on the occasion were Parliamentary Secretary (Transport) Likha Saaya, who is also the chief patron, and festival chairman Er Toko Jyoti.