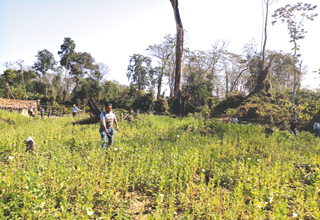 ITANAGAR, Feb 27: The first phase of joint operation against opium cultivation, conducted in Lohit and Namsai districts by the Central Bureau of Narcotics (CBN), State Narcotic Cell (SNC), District Administration (DA), Police, CBOs and NGOs, recently concluded.
In a release, the SNC informed that over 1500 hectare opium cultivation was destroyed during the operation.
The opium destruction operation was led by CBN Officers Mahesh Kumar and VS Kumar, while the SNC was headed by Oli Koyu, the State Nodal Officer.
The deputy commissioners and superintendents of police of Namsai and Lohit districts also actively participated.
For the first time, the state narcotics control cell coordinated with the district administration, police, CBN team, CBOs and NGOs and physically supervised and participated in the field operation.
The state narcotics control cell was constantly monitored and guided by Tax & Excise Commissioner Anirudh Singh, who has recently joined the department.
Further, the SNC informed that strong messages against opium cultivation have been issued by Governor Dr BD Mishra and Deputy Chief Minister Chowna Mein, who have motivated CBOs to take strong stand against opium cultivation.
Large scale destruction of opium cultivation was done in areas, such as Mimi, Emphum, Kherem, Namgo, Namliang, Mabira, Terngapani, Emphum, Namgo, Empong, Momang, Namgo, Emphum, Empong, Empong, Lungka, Inju, Insa, Lungka, Inju and Insa.
Locals reportedly helped the narcotic officials in destroying opium fields.