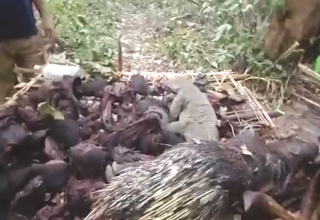 Correspondent
PASIGHAT, Mar 3: Five suspected poachers were arrested with three SBBL guns and wildlife carcasses from Borguli range of the Daying Ering Memorial Wildlife Sanctuary.
The poachers were nabbed in Jopong Paatang area of the sanctuary on Friday evening by personnel from the Forest department led by DFO Tasang Taga.
The poachers have been identified as Banning Doso, Kayimang Borang, Tagmin Sisam, Orik Tayeng and Kuk Tayeng of Mebo area.
However, one alleged hunter, namely Tokbong Rome managed to evade arrest.
The forest officials seized carcass of a porcupine and a monitor lizard, and a large quantity of dried meat of wild boar, Sambar and hog deer.
The arrested persons have been handed over to the East Siang district police for further investigation.
A case has been registered against the poachers under section 51 (i) WL and Section- 27 of Arms Act and investigations launched.
Earlier too, the district unit police and wildlife officials here recovered wild carcasses with smoked wild meat from Pasighat and Mebo areas and several people were booked under the Wildlife Protection Act.
Meanwhile, Range Officer for Sibiyamukh Wildlife Range, Domek Koyu has been camping at Sivaguri portion of the sanctuary bordering Upar Kobu of Assam and mobilizing people of fringe villages to prevent killing of wildlife.
He has warned the villagers not to enter the sanctuary without proper permission of the authority.