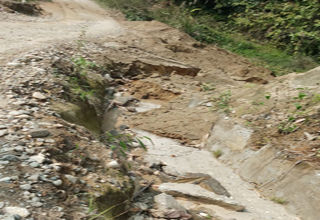 ITANAGAR, Mar 18: The All Papum Poma Students' Union (APPSU) has raised serious concern over the pace of construction of Balijan to Tarasso road (measuring 14 KM).
In a release, the union informed that the construction work of the said stretch of road, which started in 2014, is still progressing at a snail's pace.
The Balijan- Tarasso (Ramghat) road is being taken up under the Rural Infrastructure Development Fund (RIDF) scheme and is financed by the National Bank for Agriculture and Rural Development (NABARD).
An amount of Rs 14 crore was sanctioned for the project and work is being executed under the Rural Works Department.
A team of the APPSU and Tarasso Youth Association (TCYA) visited the Balijan- Tarasso road on Saturday and found that quality has been severely compromised.
"Quality of the ongoing road construction is very poor. As per DPR, the thickness of black toping is supposed to be three inches, but the contractor of the project is constructing the road with a mere thickness of 1/2 (half) an inch of black toping. No proper drainage system has been maintained due to which the portion of the drain is also being washed away by rain water," stated the APPSU.
The union added, "Because of the lack of skilled/ expert supervision, the formation cutting has not been done in proper manner causing road blockade, especially during rainy season. The width of the road is also less and not as per the DPR. The said road serves as a lifeline for the people living in Tarasso circle, which connects the circle to the state capital of Itanagar."
The union also submitted a representation to the Executive Engineer RWD Papum Poma Division, Yupia on 17 November, 2017 seeking urgent intervention in the matter but no action has been initiated so far, the APPSU said.
The union has appealed to the authority concerned to direct the contractor to complete work on time and before the monsoon arrives, and also sought monitoring of the quality of work.
When contacted, Power of Attorney Holder, Nabam Eka said due to heavy monsoon, several culverts and retaining walls were washed away. He also alleged that fund is not released on time which hampers the progress of work.
Eka further claimed that carpeting and other works are being carried out as per guidelines of the department and assured to compete the work. He also dismissed the allegation levelled by the APPSU.