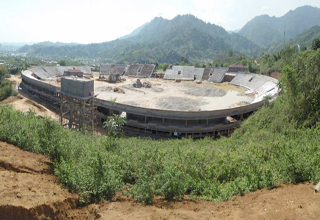 Staff reporter
ITANAGAR, Apr 18: The sports scenario in the state will witness massive changes with construction four major outdoor stadiums nearing completion.
The outdoor sport stadiums (executed by the Urban Development Department) include the ones in Yupia (Papum Pare), Ziro (Lower Subansiri), Pasighat (East Siang) and Daporijo (Upper Subansiri) are at different stages of completion.
Of the four, the stadium at Yupia is estimated to be the largest with seating capacity for 15, 000 spectators. Under construction at an estimated cost of Rs 59.48 crore, the stadium will have a football pitch, athletic track, dressing room, etc.
The Pasighat stadium, being built at a cost of Rs 40.90 crore, has capacity to hold 11, 000 people and will have similar facilities like the one at Yupia.
The stadiums at Ziro and Daporijo, which are being constructed at estimated costs of Rs 24.31 crore and Rs 12.41 crore with seating capacity of 4,000 and 2,000 persons respectively, will be only for football.
Talking to this daily, Director of Sports Tadar Appa informed that work is progressing in full speed and all four stadiums should be ready for use soon.
"The work in Pasighat got delayed due to some issues raised by the Civil Aviation authorities. But pace of work in all the stadiums is satisfactory. After completion of these projects, we will be in a position to hold regional and national level sports competition," said Appa.
The director further informed that three more outdoor stadiums will come up at Aalo (West Siang), Tezu (Lohit) and Chimpu (Capital Complex).
Urban Development department Joint Director, T Darang, who is overseeing the progress of the four stadiums, said that the completion target for Ziro was March 2018, but it has been delayed.
He, however, estimated the work at Ziro and Daporijo to be complete by the end of May.
When asked about the outdoor stadium at Pasighat, Darang said that the work started in January 2016 and is slated for completion by January 2019, but objections raised by the authorities of Civil Aviation and Advance landing ground has delayed the work by six months.
He, however, sounded optimistic that the department could achieve the target of January 2019.
In the case of Yupia, Darang informed that the work began in May 2015 with completion target set for April 2018. Though the project is running late, he expressed satisfaction with work quality.
"I visit Yupia regularly to take stock of the progress. We are hopeful that the stadium with its magnificent facilities will be ready for use before 2019," said Joint Director Darang.
With an Astroturf football ground already inaugurated at Sangey Lhaden Sports Academy (Itanagar) and hockey Astroturf ground also on the verge of completion at the same academy, exciting days await sports enthusiasts. Early completion of the four outdoor stadiums will serve as icing on the cake.