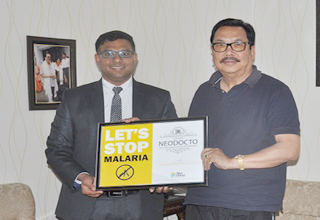 ITANAGAR, Apr 18: The US based NeoDocto Foundation Global has expressed its willingness to help the state government in malaria eradication.
This was informed by Deputy Chief Minister, Chowna Mein in a meeting with Health Commissioner, Kaling Tayeng and Health Services officials here on Wednesday.
The company, with its president and CEO Madhukar Sanneerappa has agreed to provide free service in educating the masses towards prevention and treatment of malaria, the DCM added.
"Arunachal is a malaria prevalent state and we should take advantage of such opportunities and seek feasible support from the NeoDocto Malaria Eradication Programme," Mein said and asked the officers to avail the opportunities provided by the NeoDocto Foundation and also to draw an action plan to make the state a malaria-free state.
Special Secretary (Health) Dr Tapasya Raghav, the Additional Director Health cum State Programme Officer of National Vector Borne Disease Control Programme (NVBDCP), Dr Allok Yirang and NVBDCP Public Health Consultant Dr Tumge Loyi were also present in the meeting.
Earlier on Tuesday, Sanneerappa informed the DCM that his foundation is investing some of its profits in social work sectors like health care system, especially in its 'Malaria Eradication Programme' all over the world.
He further said that his foundation has already collaborated with 14 states in India, including Assam, Mizoram and Sikkim in the North East in this regard.