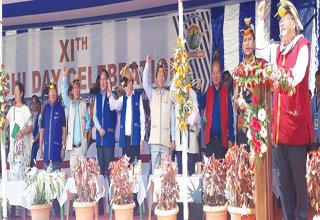 Nyishi should lead in state's development: Tolum
RICHIJULLANG, Apr 19: Being one of the largest in the state, the Nyishi community should lead the people in all-round development of state, said Nyishi Elite Society (NES) president Bengia Tolum in his address during the 11th Nyishi Day celebration at the site of the under-construction NES secretariat here on Thursday.
"The Nyishi need to be united for peace, prosperity and all-round development of the community and the state," Tolum said, and urged his fellow community members to serve the society and live with dignity and in peace.
Stressing the importance of advocating peace, he said, "If one cannot do well to one's neighbours, one should not harm them either."
Urban Development Minister Nabam Rebia in his address urged everyone to discourage creation of clan-based organizations, in order to maintain unity. He also highlighted how several people contributed towards removing the derogatory word 'Dafla' from the constitution and replacing it with Nyishi.
IPR Minister Bamang Felix in his address said, "Today is the day when we proclaimed ourselves as Nyishi, and we need to uphold the very meaning of the word," while Arunachal Pradesh Congress Committee president Takam Sanjoy in his address spoke about the distinct culture, tradition and courage of the Nyishi tribe.
Chief Information Commissioner Joram Begi in his address expressed hope that everyone would work for all-round development of the state.
A lyrical book by Biki Para Tok, titled 'Hange Mynam", and an audio album titled 'Anya Vol-II', produced by Tok Buttom and Dr Boa Reena Tok, were released on the occassion.
Lawmakers Tapuk Taku, Pani Taram and Techi Kaso, former MLA Atum Welly, Tatar Kipa, Kipa Babu, senior leader Ligu Tacho, IMC councillors, PRI leaders, GBs, students leaders and others participated in the celebration.
Cultural programmes performed by several local artistes and groups were also part of the celebration. Legendary singer Taba Yall Nabam mesmerized the revellers with her song 'Kumchi Lela'.
Progressive entrepreneur and social worker Likha Maj announced Rs 10 lakh for the construction of the Nyishi secretariat. Several others made similar announcements.
Nyishi Day was also celebrated in a befitting manner at the Indigenous Ground in Bhalukpong in West Kameng district on Thursday.
Addressing the participants, All Nyishi Students' Union vice-president Tana Sushil Tara urged the revellers, especially parents, to "imbibe a sense of pride in encouraging their children to use Nyishi dialect and promote indigenous culture and tradition through folktales and folklores."
NES Bhalukpong unit chairman KK Yangfo, advisor Tage Lapung, NES Bomdila unit chairman PC Teli, NES West Kameng in-charge Padang Sangyu, and NES Assam unit chairman P Cheri also spoke.
Cultural troupes from Assam and Bomdila presented traditional performances on the occasion.