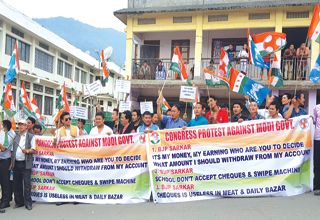 Staff Reporter
ITANAGAR, Apr 20: Scores of placard-bearing members of the Arunachal Pradesh Congress Committee and the Arunachal Pradesh Youth Congress (APYC) staged a dharna outside the SBI regional office here on Friday to protest against the cash deficit in SBI ATMs across the state.
APYC president Geli Ete, who led the protestors, said people had suffered enough during the past couple of weeks because of the cash drought in the ATMs in the capital complex.
"This protest is an expression of the people's growing frustration as they have been unable to get much-needed cash from the ATMs for their children's admission fees and for medical expenses," he said, adding that the issue is gradually becoming a recurring problem.
Blaming the BJP for the alleged cash crunch in the state and the country, the APYC president accused the government of "creating another demonetization-like cash shortage in the entire country."
Ete said the protestors submitted a memorandum to the SBI regional branch, urging the bank's officers to address the cash crisis on priority.
"If the problem is not addressed within the stipulated time, we will be forced to launch the second phase of our democratic protest, in which we will gherao the state secretariat," said Ete.
Meanwhile, some of the ATMs in Ganga were still not dispensing cash till 11 am, despite the bank's assurance to replenish the ATMs by Friday. The ATMs near SBI Itanagar, however, had been replenished.