NEW DELHI, Apr 27: Women entrepreneurs Tage Rita and Techi Anna from Arunachal Pradesh received the Vasundhara – NE Woman Entrepreneur of the Year awards in an award ceremony held here 25 April.
Rita, the country's first kiwi wine brewer, received the award for the year 2015-16, while Anna received hers for 'excellence in handicrafts' for the year 2016-17.
"The duo is among the 16 women entrepreneurs from the Northeast who have been conferred the prestigious award for the years 2015-16 and 2016-17," informed the event's organizer, Guwahati-based Sreemanta Sankar Mission.
Anna is an anchal samitu member of the Poma panchayat.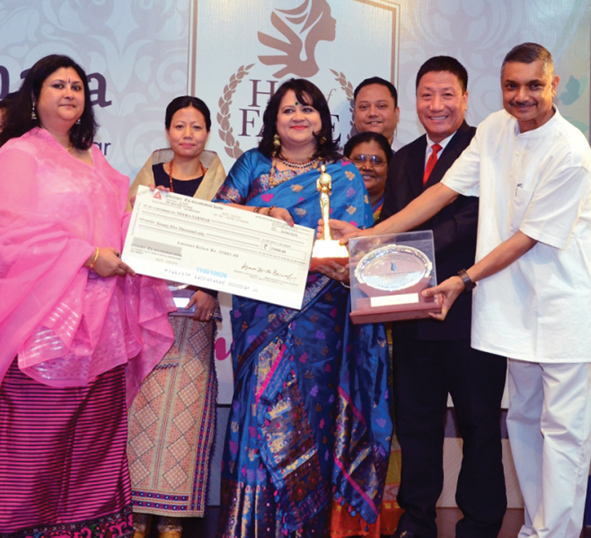 Besides Rita and Anna, entrepreneurs who received the awards were Malamoni Hazarika, Assam (food processing), H Shubhra Devi, Manipur (food processing), Dolly Khogla, Meghalaya (coal exporter), Zonunsangi, Mizoram (handicrafts), Karen Yepthomi, Nagaland (hospitality industry), Smita Rai, Sikkim (candle-making, handicrafts), Putul Saha, Tripura (transport business) for 2015-16; and Dr Asem Sundari Devi & Geetashori Yumnam, Manipur (organic bio-fertilizers), Dasumarlin Majaw, Meghalaya (organic green coffee), Zomawii Hrahsel, Mizoram (bakery), Temsusenla, Nagaland (handicrafts), Chimi Ongmu Bhutia, Sikkim (handicrafts), and Pratima Saha, Tripura (handloom).
The title winners of 2015-16 and 2016-17 from among the 16 state awardees were declared during the award ceremony.
The awards went to Dolly Khongla of Meghalaya for the year 2015-16 and Neera Sarmah of Assam for the year 2016-17.
The Vasundhara Hall of Fame, 2018 awards were presented to five women from the Northeast who have made remarkable contributions towards promoting Northeast India in the global forum.
The awardees were Babita Barua, managing partner, GTB India (WPP Group), Krishna Sarma, managing partner, Corporate Law Group, New Delhi, Jesmina Zeliang, founder of Heirloom Naga, Indira Chirom, and Ng Bimolata Devi.
The title winners Doly and Neera were awarded Rs 25,000 each along with trophy and citation.
The state winners and the Hall of Fame awardees were honored with shield and citation.
Started with the invocation of Donyi Polo by Taba Yall Nabam of Arunachal Pradesh, the award function saw Manipuri Raas Leela dance performance, Naga dance and acrobatics performance of the Meiteis from Manipur.
IGP Robin Hibu, joint commissioner in the Rashtrapati Bhawan, Ajit Kumar, former permanent representative of India to the United Nations, Amarendra Khatuwa, former ambassador to Argentina, Nayanmoni Borah, ex-CMD, Oil India Ltd, Rupsikha Saikia Bora, director finance, Oil India Ltd, Rakesh Mathur, president, ITC Welcome Heritage Group, and Ashish Chopra, culinary historian were present on the occasion.