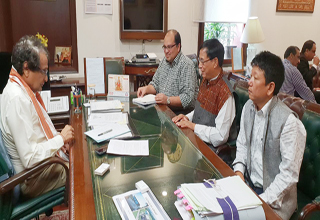 NEW DELHI, Apr 27: Union Commerce & Industries Minister Suresh Prabhu has assured all possible support to the Arunachal Pradesh government in promoting industries and various other sectors in the state.
Prabhu gave the assurance when Arunachal Pradesh Power & Textiles Minister Tamiyo Taga called on him with the request at Udyog Bhawan here on Friday.
Taga also submitted a memorandum to the union minister, seeking a one-time grant as a special economic package to revive the Arunachal Pradesh Industrial Development and Financial Corporation Ltd.
The memorandum also contained grievances relating to food processing, medicine and dye produce, food storage, packaging and exports, wood industry, drinking water plants, sewage treatment plants, and renewable energy technology, among other things.