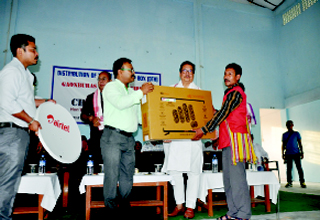 MAHADEVPUR, May 2: Deputy Chief Minister Chowna Mein distributed TV sets with set top boxes to all the 40 gaon burahs of Lekang constituency at the community hall here on 1 May.
Gaon Burahs being an important institution of the government administration at the grassroots and village level, need to be updated with the latest development and information, said Mein while distributing the TV sets.
He urged them to share the information and welfare programmes and policies of the central as well as state governments with the villagers so that they are also aware of such welfare schemes and avail its benefits.
Highlighting various developmental schemes implemented in his constituency, he reiterated his commitment to work for the development of the area and welfare of the people.
While the TV sets were procured from government fund, the set top boxes with dish were provided by the deputy chief minister from his own resources.
He also said assured the GBs to look into their demands for proving mobile handsets and replacement of the 'red coat' during summer season.
Colour TV sets were also provided to 45 GBs and seven HGBs of Capital Complex on 1 May.
Capital Complex Deputy Commissioner Prince Dhawan distributed the TV sets in a function at his conference hall here.
Reiterating that his administration is always keen on working hand in hand with the GBs, Dhawan said, the GBs and HGBs will be made partners in various developmental plans and projects in the days to come.
He urged them to play an active role in disseminating and creating awareness among the people of their respective areas about various welfare programmes and policies of the state government.
He sought the active participation of the GBs for giving the welfare schemes/programmes a concrete shape for the larger interest of the common people.
President of All GBs and HGBs Association Nabam Tonyum assured the deputy commissioner to extend their full cooperation to the district administration.
At Anini, Dibang Valley district, Additional Deputy Commissioner Gautam Hazarika distributed TV sets provided by the state government to the GBs of Anini and Mipi circles on 2 May.
The ADC appealed to the GBs to work sincerely and co-operate with the district administration for all round development.