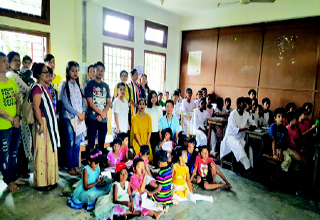 ITANAGAR, May 3: The Arunachal Pradesh State Commission for Women (APSCW)requested the Women and Child Development department and state government to look into the development of the Oju Welfare Association (OWA) as special case and consider giving them state aid grants for infrastructure, including long stay home, new building, new furniture, etc.
During a visit to the OWA on Thursday, a team of the APSCW led by its Vice Chairperson Padmeshwari Jamoh, Member Secretary Yame Higio and Member TabaRosyobserved that the OWA is the only institute running special schemes and programmes for the destitute and children in the state, but lacks adequate infrastructure and facilities for the inmates, including children.
The team also visited the Oju Craft Centre, Swadhaar Greh (Short Stay Home), special adoption agency, children's home under Child Care Institute, women helpline,and vocational units.