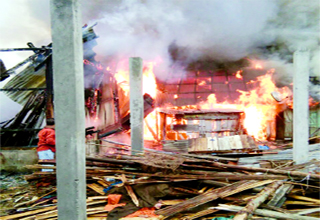 AALO, May 16: A massive fire broke out at New Market here on Wednesday morning at around 3.30 AM and gutted down an entire complex of 21 rent rooms, three godowns, three blacksmith shops and one grocery store.
At least 28 tenants and 12 plot owners have been affected by the fire.
No casualty has been reported and the cause of fire is yet to be ascertained.
Immediate relief assistance has been provided to the tenants, but the administration was unable to provide relief assistance to the plot owners due to paucity of fund.
In a WT message to the department of Disaster Management, Itanagar, the district administration has sought additional fund under the State Disaster Response Fund.
Some fire victims have taken shelter at the community dere (hall) and at the upper primary school here.