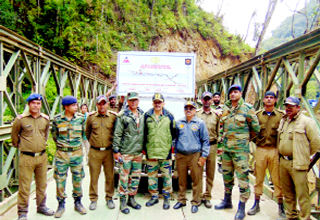 ITANAGAR, May 16: Remote Taksing circle in Upper Subansiri district has finally been connected by road.
The Border Roads Organization (BRO) has completed the difficult Tama Chung Chung (TCC) – Taksing road beyond Limeking on 9 May, after nine years of painstaking construction work, according to a release.
On completion of the road, a team of the BRO led by Colonel Tanish Kumar, Commander 23 BRTF drove to Taksing from Limeking, covering a distance of 80 km approximately.
"The road now stands connected from Limking to Taksing," the release said.
The work on the TCC – Taksing road started in 2009.