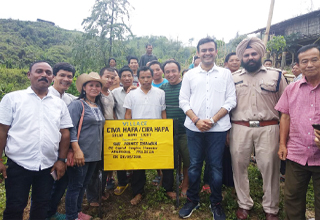 ITANAGAR, May 20: Gibahappa – a little known village inhabited by 16 families – near the state capital received electricity for the first time with the inauguration of a 14-unit solar home lighting system on Sunday.
Capital Complex DC Prince Dhawan visited the village, located approximately 10 kms from the capital, to inaugurate the solar lighting system, which was sanctioned from the DC's untied fund and executed by the Arunachal Pradesh Energy Development Agency (APEDA).
After inaugurating the system, Dhawan lamented that a village located merely 10 kms from the capital does not have grid power connection, and assured to look into the matter.
He also endorsed the request placed by the All Lorr Bath Youth Association for construction of a concrete footpath from Lorr village to Giba village.
Interacting with the villagers, the DC advised them to focus on developing the area as an adventure tourism spot, "due to its beautiful landscape and proximity to the capital."
The DC was accompanied by SP Sagar Singh Khalsi, ASM Teli Yamang, and APEDA JE Likha Papu. The team reached the village after a six-kilometre march from the entrance of the zoological park here.
Earlier, the DC along with the SP inspected the primary school in Lor-Putung, where safety fencing and toilets were constructed for school children.
The safety fencing and other electrical items, such as fans and lighting system, were sanctioned from the DC's untied fund, 2017-'18.