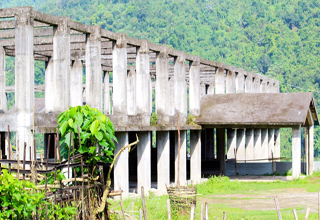 ITANAGAR, May 21: The Jawahar Navodaya Vidyalaya (JNV) in Geku in Upper Siang district, which was established 10 years ago, is still being run from a temporary OBT building without proper infrastructure.
Informing about this, the North East Human Rights Organization's (NEHRO) state unit chairman Buteng Tayeng said, "Rs 16 crore was allotted to RITES, a Delhi-based construction agency, for construction of the school building in collaboration with a contractor. They have erected only a few pillars so far."
He claimed that no representative from either of the construction agencies has visited the site after the construction work was started in 2008.
Tayeng, who apprised the chief minister of the matter in Pasighat on Monday, provided a detailed progress report on the school's infrastructure development, which he said was provided to him by the school's authority.
The report shows that only 40 percent work on the main school building has been completed till date and there has been no progress in the last four years.
While the RCC columns of the girls' dormitory have been raised up to the bottom of the first-floor beams, construction work on the kitchen, the dining hall, and the boys' dormitory has not been started yet, the school authority stated in the report.
"One block of Type III staff quarters is not yet started and the other block of Type III staff quarters is done only up to foundation," it said.
In case of the Type II staff quarters, only RCC columns have been raised up to the lintel level of the ground floor, the school authority informed.
Moreover, it said, no boundary wall or road formation cutting work has been done yet.
"We are in apprehension that all the funds meant for construction of the JNV, Geku, have been siphoned off by those contractors," the NEHRO unit chairman said.
Highlighting the plight of the students and staff due to the absence of proper school infrastructure, Tayeng appealed to the authorities concerned to look into the matter and ensure early completion of the JNV's infrastructure.