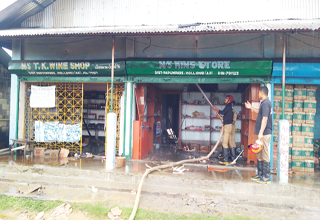 HOLLONGI, May 21: Three shops were gutted in a massive fire that broke out in 'Takam Kabak' building here at around 5 am on Monday.
No casualty has been reported, and the actual cause of the fire is yet to be ascertained. A liquor shop, a bottled-water store, and a hardware store were gutted in the incident.
According to eyewitnesses, the fire started from the liquor shop and spread to the other shops within no time.
Four fire tenders were engaged to douse the flames -three from the fire station in Gohpur, Assam, and one from the Itanagar fire station.