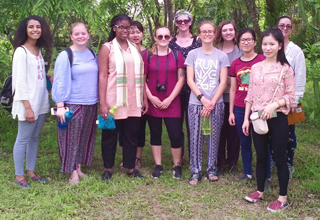 [ Karyir Riba ]
ROING, May 23: A group of 16 students headed by two professors from the University of South Florida (USF), Tampa, USA, who are on a 'Study Abroad' programme here visited the RIWATCH Museum at Khinjili and studied the articles of the museum.
The group was accompanied by five scholars and six professors from the Rajiv Gandhi University, Doimukh during the visit.
The RIWATCH is an ethnographic museum where more than 300 articles and over 40 rare old photosare on display.
The USF students' group also visited the Bhismaknagar archaeological site, tea plantation and tea factory; conducted social service at the district hospital premises; visited the Mipi Pene (Igu Musuem); and interacted with villagers, self-help group members and the members of the Idu Mishmi Cultural and Literary Society.