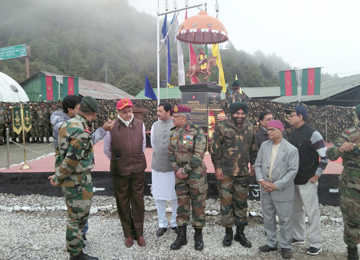 TAWANG, May 29: The Parliamentary Committee on External Affairs, led by its Chairman Shashi Tharoor, along with Rajya Sabha Member Sambhaji Chatrapati witnessed the operational preparedness of the Indian Army during their visit to this border district on Tuesday.
The committee is on a two-day visit to Tawang to study Sino-India relations, including activities vis-à-vis the Doklam standoff, and the present security situation along the Line of Actual Control (LAC).
Interacting with the army officers and troops, the visiting team praised the Indian Army's multifarious contribution in nation-building while maintaining the sanctity of the LAC with China, even in the most treacherous terrain and weather conditions.
General Officer Commanding of the Army's Ball of Fire Division, Maj Gen Rajesh Kumar Jha briefed the committee on the security situation, and assured the members of the Indian Army's professionalism and firm resolve to guard the nation's territorial integrity.
The committee members paid homage to Maratha warrior Chatrapati Shivaji Maharaj at the Maratha Ground army camp, and to the martyrs of the 1962 Sino-India War at the Tawang War Memorial.
Team visits memorial museum
The committee members also visited the Dorjee Khandu Memorial Museum in Famla on Monday.
They were received at the memorial park by Tawang MLA Tsering Tashi and high-ranking officers of the Indian Army, including Maj Gen Jha.
After offering floral tributes and khatas at the memorial of former chief minister Dorjee Khandu, the visiting dignitaries were given a guided tour of the museum, which houses two galleries on the life and work of late Khandu, and one on the 6th Dalai Lama, Tsangyang Gyatso, who was born in Tawang.
The members of the standing committee, who also included Members of Parliament Gurjeet Singh Aujla, Prof Sugata Bose, Jose K Mani, Mohd Salim, Prof Mamtaz Sanghamita, Sharad Tripathi, and P Bhattacharya, expressed their happiness at having visited the memorial.
The visit to the museum was facilitated by the patronage of Maj Gen Jha and Brigadier MP Singh, Commander, 190 Mountain Brigade, who have been providing immense support and assistance to the museum since its inception in April 2017.
It may be noted that the memorial was consecrated by the 14th Dalai Lama during his visit to Tawang last year, and in this one year has been visited by over 9000 guests. (With DIPRO input)