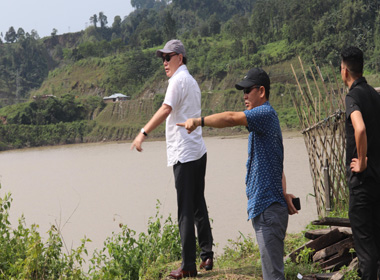 DOIMUKH, May 29: Harahappa Christian prayer centre in Rose-Jampa panchayat in Doimukh circle is facing serious threat from the dam water of the Pare hydroelectric project.
The area is on the verge of being submerged. Dam water is also reportedly threatening to wash away a large section of the Yupia-Potin stretch of the Trans-Arunachal Highway (TAH).
The locals claimed that due to heavy rainfall in the last few days the volume of the dam water suddenly increased, leading to flooding of the prayer centre. They said the floodwater is threatening the very existence of the prayer centre.
Environment & Forests Minister Nabam Rebia, who is also the local MLA, rushed to the spot on Tuesday. He found that the prayer centre is facing threat from the water of the dam on the Pare river, constructed by the North East Electric Power Corporation (NEEPCO).
Talking to the media, Rebia said he would request the NEEPCO authority to construct an embankment and start protection measures under the corporation's CSR scheme for the safety of the prayer centre.
He said he has directed the Papum Pare deputy commissioner to take necessary steps in the matter.
The minister also said that the NEEPCO's reservoir site in Jampa can be converted into "a beautiful scenic place for amusement, with wayside amenities for passersby, commuters, and the people of the capital complex.
"The area can be converted into a tourist place," he said, and urged the tourism department to consider the opportunity.
Harahapa evangelist Joram Tami said though they have dismantled some structures, they are unable to shift because of the lack of space.
NEEPCO officer Rekhi Tana Tara explained that the NEEPCO has since the beginning been requesting the TAH authority to align the road at a higher elevation than it is now.
He said it is because of the low alignment that portions of the TAH near Saro Nallah-II face the threat of being submerged.