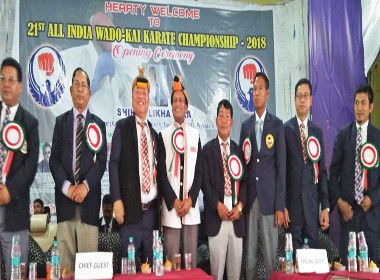 ITANAGAR, Jun 1: The 21st All India Wado-Kai Karate Championship, 2018, began at Siddharth Hall here on Friday.
Vice president of Karate Association of India (KAI) Shihan Likha Tara, and chairman of All India Wado-Kai Karate Association (AIWKKA) Rajesh Agarwala attended the opening ceremony, which was held in the afternoon, informed organizing chairman Shihan Yarda Niki.
Addressing the participants, Tara advised them to play the sport with true sportsman spirit and maintain strict discipline on and off the dojo (a room or hall in which martial arts are practiced).
Tara, who is also the president of the Karate-Do Association Arunachal advised the players to spare atleast an hour daily for practicing the sport to improve their performance.
Agarwala said that players must show respect for the seniors, coaches, and trainers, along with maintaining discipline, to achieve success.
He announced that the 22nd edition of the championship will be conducted in Tamil Nadu.
The opening ceremony was attended by karate officials, including AKA general secretary Bulang Marik, and technical director S Deben Sarma.