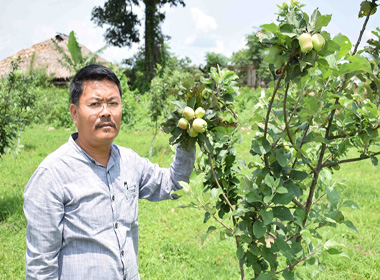 PASIGHAT, June 1: The College of Horticulture and Forestry (CHF) here has achieved the feat of cultivating 'low-chilling' varieties of apple in the college farm.
The cultivation was initiated by Dr L Wangchu, Head of the college's fruit science department, under the leadership of CHF Dean Dr AK Pandey.
The CHF informed in a press release that the apple varieties – Anna (developed in Israel), and Dorsett Golden (developed in the Bahamas) – were brought from Solan in Himachal Pradesh and planted in the college farm.
"These varieties are able to produce good apples even if they get less than 300 hours of chilling temperature at or below 7 degree Celsius. At present there is one apple block in the farm, with 100 plants," it said, adding that the two varieties act as pollinator to each other.
The initiative is expected help farmers of the state grow apples in warmer areas.
"This will not only boost apple production in the state but also help in economic uplift of the poorer sectionsof the society, as apple is costlier than most other fruits," the college authorities stated.