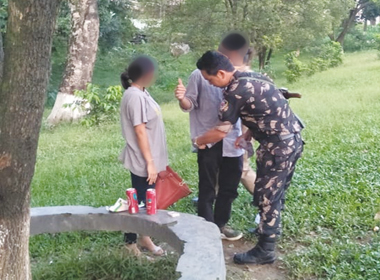 ITANAGAR, Jun 20: A team of the Itanagar unit police, along with CRPF personnel conducted patrolling at the Indira Gandhi Park, the hanging bridge in Chandranagar and the Thupten Gatseling monastery (gompa) here recently and seized alcohol from the youths loitering in these public places.
The patrolling was held on the direction of Capital Superintendent of Police, Sagar Singh Kalsi, to sensitize the youth on unethical practices, such as drinking alcohol and smoking ganja in public places and causing nuisance to the general public.
The team, led by Itanagar SDPO Kamdam Sikom seized numerous beer cans from young men and disposed off the seized items on the spot. The team also took photographs of each person and warned that strict legal action would be taken against them if the offence was repeated.