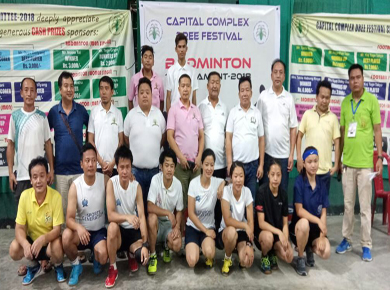 ITANAGAR, Jun 27: The two days badminton tournament organized by the Capital Complex Dree Festival Celebration Committee (CCDFC) concluded at MLA Cottage here on Wednesday.
Kalung Takhi won the men's open singles title defeating Mudo Ado in straight 21-18, 21-17 sets.
In the men's doubles, Mudo Ado pairing with Michi Takum defeated Koj Talley and Koj Tagia 3-1 sets (21-8, 24-26, 21-8) in the final to win the title.
Michi Yamang won the women's singles title beating Dani Yakang 21-19, 21-9.
In the women doubles, Nani Ankha pairing with Dani Yakang defeated Koj Sunka and Michi Yamung to become the winner.
More than 100 players participated in the tournament, which was conducted under the supervision of ASBA Joint Secretary ASBA Penya Bagra as the referee.
While distributing the prizes to the winners and runners up, Sports Authority of Arunachal Chairman Bamang Tago said such tournaments not only provide an opportunity to the players to show their talents, but also help promote the sports.