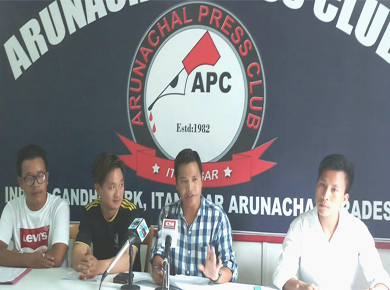 Staff Reporter
ITANAGAR, Jul 12: While welcoming the state government's decision to hand over the Toko Yame murder case to the CBI, the All East Kameng District Students' Union (AEKDSU) on Thursday reiterated its demand for immediate re-arrest of all the suspects in the case; suspension of the police personnel who were on PCR duty on the day of the incident; and making the postmortem and investigation report public.
Addressing media persons at the press club here, AEKDSU general secretary Nera Gumro said the union is dissatisfied that the state government has not yet looked into four of the five demands the union had placed before it.
He said the AEKDSU also submitted a reminder to the chief minister, seeking early fulfillment of the other four demands, following the expiry of the 15-day ultimatum the AEKDSU had served to the government on 25 June.
Expressing dismay over the delay, the union said it would be compelled to launch democratic action in the form of phase-wise economic blockade against Tawang district until all its demands are met.
It said, however, that its intention is not to harm the sentiments of the people of Tawang, and sought support from students and civil society in the movement for delivering justice to Toko Yame's family.
The Toko Yame murder case was handed over to the SIT on 13 October, 2017, and 20 people were arrested in connection with the case. They were later granted bail.
"Though we welcome the GoAP's recent decision to transfer the case to the CBI, we feel that we are being deceived as most points of our demands have been sidelined. These demands are considered vital to the gruesome murder case," Gumro said.
Also informing that neither Yame's family nor the AEKDSU has received any official communication regarding the significant development, Gumro urged the state government to ensure that a free and fair investigation is carried out in the case. He also urged the government to make the investigation report public, or at least share the progress of the case with the victim's family.
"We have also tried to seek detailed report of the whole case, which includes post mortem report, charge sheet, preliminary investigation, FIR copy, and bail release order copy from the court, but our request was denied as per Section 19 of the RTI Act, as some information does not come under its purview," informed Gumro, adding that the union has now decided to file a case at the National Human Rights Commission, New Delhi.
The AEKDSU has also demanded that the CBI team carry out the investigation from the start and not based on the report prepared by the SIT. The CBI investigation should be monitored by the high court, it added.