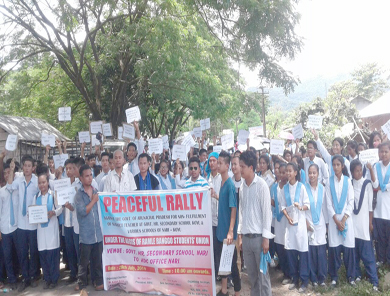 [ Litem Eshi Ori ]
NARI, Jul 21: Thousands of students under the aegis of the Ramle Banggo Students' Union (RBSU) took out a peaceful rally from the government higher secondary school to the ADC office here in Lower Siang district in protest against the government's failure to meet their demand for posting subject teachers at the Koyu GHSS and various other schools in Nari-Koyu area.
Members of the All Arunachal Pradesh Students' Union, the Galo Students' Union, the All Lower Siang District Students' Union, the Ramle Banggo Youth Forum, and school students of Nari-Koyu area participated in the rally, which was supported by the public, including youths and gaon burahs.
The RBSU said it was compelled to stage the rally as the government had failed to respond to the various memorandums the union submitted earlier to the chief secretary, the secondary education director, the deputy director of secondary education, and the education minister, for posting of subject teachers.
The union said it is not satisfied with the assurance from the government that the teachers would be posted after recruitment through the APPSC. "The academic session will almost be complete and students will be the sufferers if we wait for the APPSC exam results," the union's leaders said.
The RBSU said it would launch a vigorous movement if the government fails to post subject teachers at the Koyu GHSS and the other schools immediately.