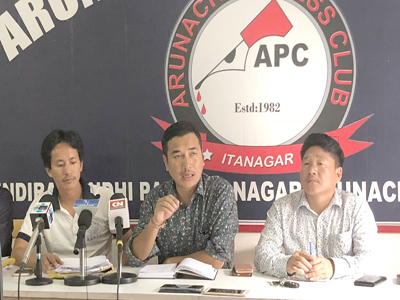 Sets 15 days deadline for illegal settlers to leave
Staff Reporter
ITANAGAR, Aug 1: In the wake of Assam publishing its final draft of the National Register of Citizens (NRC) on 30 July, the All Arunachal Pradesh Students' Union (AAPSU) on Wednesday set 15 days deadline for illegal immigrants to leave the state.
The AAPSU was apprehensive that unprecedented number of immigrants may infiltrate into Arunachal following Assam's NRC draft.
All northeast states have alerted their respective citizens against the possible rise of infiltration after Assam's NRC draft. Reportedly, over 40 lakh people have been excluded from the final list of Indian citizens living in Assam. Arunachal Pradesh shares about 804.1 kilometers boundary with Assam and this has created apprehension of heavy influx.
"Those who have illegally entered Arunachal Pradesh should leave from here gracefully within 15 days, and fellow non-APSTs that do not have inner line permits (ILPs) or other relevant documents, should get them as soon as possible", said AAPSU general secretary Tobom Dai during a press conference here on Wednesday.
The AAPSU general secretary informed that it has decided to launch 'operation clean drive' to thwart possible infiltration of such illegal immigrants in the state. The operation clean drive committee is being headed by APPSU convener Tatung Taga as chairman, and Thomas Jerang and Riso Kagung as member secretaries, Tobom added.
"The AAPSU will launch state wide movement against the illegal settlers", he said, appealing to the people of Arunachal Pradesh to cooperate with the apex student organisation.
The committee will assist concerned authorities in assessing the situation, who on their part will conduct spot verification at all the entry and exit points in various districts, and help in driving out those taking refuge in the state without valid documentation, the AAPSU general secretary informed media persons.
He further said that the union "is fully prepared to tackle the projected consequences of the NRC", and warned those taking refuge without valid documentation, to leave the state within 15 days.
Dai also appealed to the state government to come out with strong anti-influx measures by constructing more outposts at Tezu, Pasighat, Banderdewa, Roing etc to keep a check on the menace of unabated influx of illegal immigrants into the state.
Referring to its recent survey conducted to check illegal migrants in areas bordering Assam, such as Gumto, Doimukh and Banderdawa, etc, operation clean drive committee chairman, Tatung Taga claimed that as per their findings there are several vendors under Banderdawa circle, who are allegedly involved in issuing illegal ILPs to outsiders and is going on unnoticed by the concerned issuing authority.
"Our intervention into the development led to arrest of eight agents who were issuing illegal ILPs while others are still absconding," he informed, adding "the accused admitted this before police during preliminary investigation".
"This development also creates a doubt about the veracity of ILP issuance, which is being commercialized. The involvement of some officials also cannot be ruled out," observed Taga.
Claiming that illegal immigrants are using vulnerable locations to enter into the state's territory, Taga said, "Despite tall claims of the state government, many are still illegally entering into the state; crossing rivers to evade scrutiny at out posts or using routes which are less guarded".
Taga has also asked people living in interstate boundaries to be vigilant, and requested rent owners to verify the identity of their tenants before giving them space.