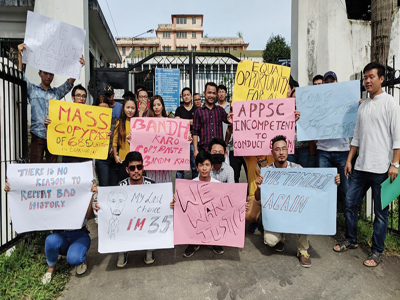 [ Nellie N Manpoong ]
ITANAGAR, Jul 1: Soon after complaints surfaced regarding anomalies in the question papers for commerce and civil engineering of the preliminaries of the Arunachal Pradesh Public Service Combined Competitive Examination (APPSCCE), the Arunachal Pradesh Public Service Commission (APPSC) has now received complaints from the geography candidates.
In a complaint letter to the APPSC secretary on Wednesday, the candidates claimed that there were five incorrect questions, two from statistics, and 68 questions which were copied from the post graduate level UGC NET 2014, and "can be deemed to be out of syllabus".
The candidates, who had protested outside the APPSC office on Tuesday and Wednesday, cited that the APPSC prospectus clearly mentions that the standard and syllabus of each subject will be degree/graduation level, but the 68 questions were from the NET-JRF (National Eligibility Test- Junior Research Fellowship) 2014, which are of post-graduate level.
They reasoned that the UGC NET exam (JRF) is a qualifying exam in nature and one does not compete with other subject candidates in this exam.
"This is unfair and unjust to the candidates preparing for the APPSCCE preliminary as the 68 questions were of post graduate level and does not provide equal ground for competition with other optional paper candidates", they said.
They also claimed that since the 68 questions were copied in sequence from a single source of UGC NET 2014 geography, "it can be argued that there is high possibility of leakage of paper".
"A candidate would merely have to know about the UGC NET-2014 and he or she would have access to 55.5 percent of the questions in the APPSCCE 2018", the candidates claimed.
The candidates have now sought fresh examination for geography paper.
Meanwhile, APPSC Secretary Taru Talo informed this daily that the grievances of the students are being looked into and the results will be out only after the complaints of the three subjects are properly scrutinised.
"We have taken note of the grievances. The commission will take a decision after consultation with subject experts and ascertain how many were actually out-of-syllabus", he said.
He maintained that if the questions are similar to questions found elsewhere, and are still within the prescribed syllabus, then the commission will take steps accordingly.