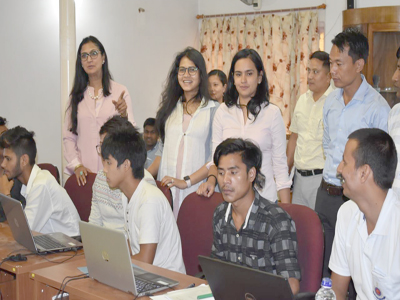 ITANAGAR, Aug 1: The Arunachal Pradesh Police Welfare Society (APPWS) organized its first ever free computer skilling and graphic design workshop for students of police families.
During the two-day workshop, conducted here at the Ganga Mess recently, more than 23 students participated to learn photo-shop and basics of computer graphics design.
The police welfare society is seeing renewed focus on education, awareness and youth empowerment under the leadership of its new chief, Director General of Police SBK Singh.
The free workshop, a brainchild of ex-officio Chief Advisor of Arunachal Police Welfare Society, Dr Sushi Singh was intended to enhance the computer skills to create self-employment opportunities for the participants. The skills will also help students to make projects for schools and colleges and explore new career options. Instead of outsourcing computer graphics work for police, the students' project work will now be utilized for Arunachal Pradesh Police greeting cards.
Emphasizing on the need to empower youth with new skills, Dr Singh said, "The need of the hour is to empower our youth to bring the desired change in the society and through advanced computer skills we are trying to help our students dream big and achieve big."
The resource person for the workshop was Bani Sharma, a graphic designer from Delhi who is also an advisor of the APPWS. She commented on the enthusiasm and excitement amongst the students, "I am impressed by how quickly the students of Arunachal were able to learn and the quality of output they created in mini exercises. Some of the students stayed back until late to keep revising and practicing their newly learnt skills", she added.