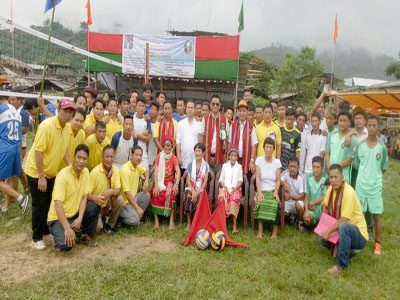 [ Karda Natam ]
DAPORIJO, Aug 3: The district level open volleyball tournament organized in memory of Jita Leriak began here in Upper Subansiri on Thursday.
Leriak, who was also known as 'Pata Sahab' in the area, was a renowned social worker, founder member of Si-Donyi festival, and the first political interpreter and head gaon burah of Giba administration and Jaring bango of undivided Taliha, informed Dr Kai Mara.
Leriak also served as bango secretary and a panchayat leader, and was instrumental in the construction of Menga Giba road connecting many villages with Daporijo town, Dr Mara said.
"His contribution towards overall development of the area is immense," Dr Mara added.
Twenty teams from various clubs, villages, community-based NGOs and organizations are participating in the tournament. The winners and runners-up teams will be awarded cash prizes of Rs50,000 and Rs 25,000 respectively, along with trophies.
Altogether 12 matches were played on the opening day.
Gyadu Volleyball Club was defeated by Neba Volleyball team in the inaugural match.
The final match will be played at Leriak, the native village of Jita Leriak, on 10 August.