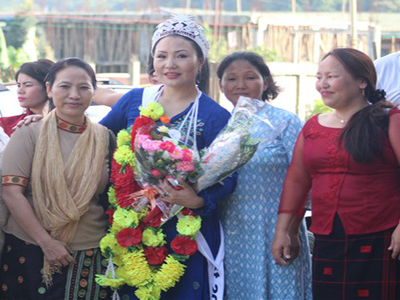 ITANAGAR, Aug 3: Takam Hima Techi, a mother of three children, from Rishi village in Palin circle of Kra-Daadi district won the Mrs India Northeast subtitle at the grand finale of Mrs India 2018 held in Chennai on 30 July.
Married to Techi Tabang, Hima is also the winner of the 7th edition of Mrs Arunachal held in June last.
She is serving as a junior teacher in the education department, and has been participating in many social activities.
On her arrival from Chennai, the organizing committee of Mrs Arunachal 2018, the Palin Employees Welfare Association and family members and well-wishers accorded a warm reception to Takam Hima Techi at Hollongi on Friday.