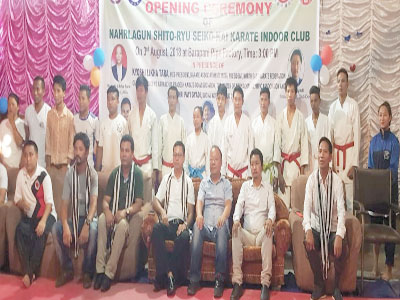 NAHARLAGUN, Aug 3: A karate 'dojo' (a training place or facility for martial arts) near Barapani was donated to the Naharlagun Shito-Ryu Seiko-kai Karate Indoor Club by social worker Payi Gyadi.
A simple opening ceremony was held on Friday in the presence of the donor and Arunachal Karate Do Association officials, including its president Likha Tara and general secretary Bulang Marik.
Gyadi expressed hope that the dojo, though small, would fulfill the need of training karatekas.
Tara, who contributed a kick-stand, advised martial arts practitioners to always maintain discipline and practice regularly to master the art.
Arunachal Shito-Ryu Karate Association (ASKA) technical director Bulang Marik contributed Tamame mats to the club.
ASKA president Dr Marli Ete, general secretary Charu Tatung and AKA technical director S Deben Sharma were also present on the occasion.