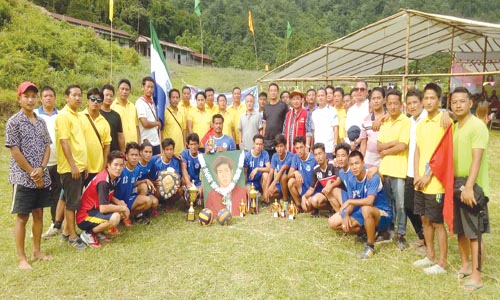 [ Karda Natam ]
DAPORIJO, Aug 11: Neba B team won the district level Jita Leriak Memorial Volleyball Tournament, beating Neba A in the final, which was played at Leriak village – the native place of late Jita Leriak – on Friday.
"The main objective of the tournament was to cherish the memory of Leriak, who was a pioneer social reformer, activist and torchbearer of the society, particularly Giba circle in Upper Subansiri district," said Dr Jei Mara.
"We have to cherish the memory what he has done for the society," Dr Mara said.
Tamin Elite Society president Nada Ngute Tamin recalled Leriak's selfless services to the society, and appealed to the people to follow the ideals of Leriak, who always advocated communal harmony in the society.
The winners were awarded cash prize of Rs 50,000 along with a trophy, while Rs 25,000 along with a trophy was given to the runner-up team.
The 'best disciplined team' award went to Tamu Tadu volleyball team. The team was given a trophy and cash award.
Cultural displays by troupes from Giba, Leya, Sorum, Natam and Leriak were the other highlights of the closing ceremony.
Government employees, former PRI leaders, villagers and students also witnessed the final match.