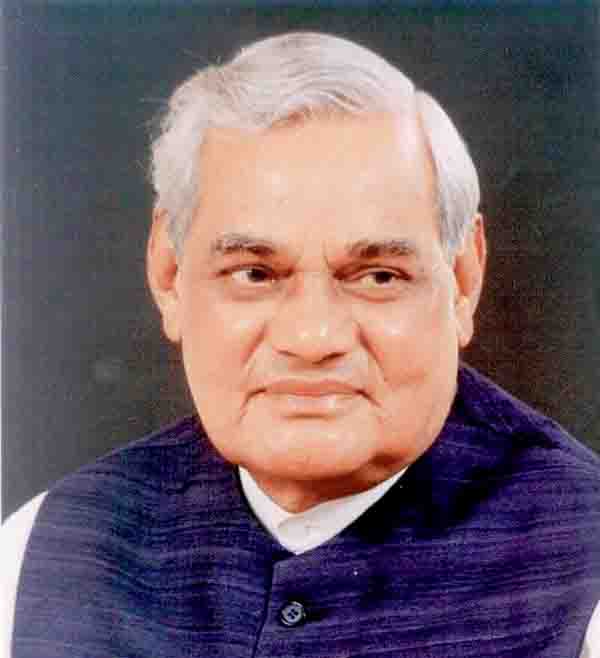 NEW DELHI, Aug 16: Former prime minister Atal Bihari Vajpayee passed away on Thursday. The 93-year-old leader passed away at the AIIMS here.
Vajpayee is survived by his adopted daughter, Namita Kaul Bhattacharya.
His last rites will take place at 4 pm on Friday at Rashtriya Smriti Sthal in Delhi, BJP chief Amit Shah said.
The government has announced a seven-day state mourning as a mark of respect for Vajpayee.
In a circular, the home ministry also said the national flag would be flown at half mast from Thursday for seven days across India, and (From P-1) a state funeral would be accorded to Vajpayee.
Governor, CM mourn Vajpayee; holiday declared
The Arunachal Pradesh government has declared a one-day official holiday on 17 August as a mark of respect to the former prime minister.
All government establishments, including financial and educational institutions, will remain closed, it said.
Arunachal Pradesh Governor BD Mishra expressed shock and grief at the demise of Vajpayee.
"In death of respected Atal ji, India has lost the tallest leader, politician, statesman, patriot, literary figure and the loftiest human face of Independent India," Mishra said in his condolence message.
Paying homage to the great leader, the governor described Vajpayee as an apostle of unity, harmony, and secularism. "Cutting across the political party lines, he commanded admiration of all," he said.
"The Indian armed forces will always remember Atal ji, who, in India's war history, for the first time ensured that the mortal remains of every martyr of Kargil War in 1999 was brought home and given befitting last rites."
Conveying condolences on behalf of the people of Arunachal Pradesh, the governor prayed for eternal peace for the departed soul.
Chief Minister Pema Khandu has also mourned the death of the former prime minister of India, Atal Bihari Vajpayee.
"In his passing away, we all are at immense loss… He was an iconic and charismatic figure who was loved by all. He was a true statesman who often rose above political differences for the cause of humanity, justice and peace. He was a true inspiration," the chief minister said in his condolence message.
The Arunachal Pradesh Congress Committee also mourned the stalwart's demise and said that with the passing away of Vajpayee "India has lost a great thinker, philosopher, poet, reformer and leader. With the demise of Vajpayee, an era has come to an end."
Former Chief Minister Nabam Tuki has also mourned the passing away of the former prime minister. In his condolence message, Tuki described Vajpayee as one of the tallest leaders of the country, an impeccable parliamentarian, and a great poet.
Vajpayee was a towering nationalist who softened the often sharp edge of his party's politics with a gentle sophistry of words, earning him the sobriquet "ajaat shatru" or the man with no enemies.
He was awarded India's highest civilian award, the Bharat Ratna, in March 2015.
After the NDA was routed in the elections, Vajpayee announced his retirement from politics in 2005 and slipped into relative political oblivion.
He was rarely seen in public after suffering a stroke in 2009, and subsequently developed dementia. However, his influence loomed large over the party, which often quoted him and his policies. (PTI with inputs from CMO and Raj Bhavan)