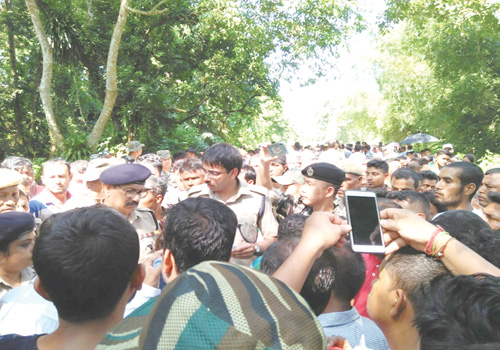 [ Nellie Manpoong ]
ITANAGAR, Aug 19: The body of a seven-year-old girl, from Simaluguri in Assam, was found at the Rajgarh road in Chessa in Papum Pare district of Arunachal Pradesh on Sunday, at around 8.30 am.
The Rajgarh road is a natural boundary between Assam and Arunachal Pradesh.
Prima facie evidence has led police to believe that the child was sexually assaulted. She also received head injury and several bodily injuries. However, the police are awaiting the postmortem report to ascertain their observation.
The child had reportedly been missing since Saturday, and the Assam Police received a missing complaint at around 10 pm. The information was passed on to the Arunachal Pradesh Police (APP) at around 11 pm.
Capital Complex Superintendent of Police M Harsha Vardhan informed this daily that personnel from the APP's Chessa police outpost arrived first at the scene on receiving information from local residents.
An inquest was first held by Banderdewa Executive Magistrate Neelam Teji. The body was handed over to the Assam Police, and subsequently taken to the civil hospital in Lakhimpur for postmortem.
On whether any arrest was made, the SP said, "It is a wide dragnet as of now," but assured of all possible assistance to the police in Assam, where the case has been registered, to solve the case at the earliest.
It is also reported that an agitated mob of locals from Assam pelted stones at the police outpost in Chessa, but was soon brought under control.
"The mob was quickly brought under control. No major damage has been caused, and a case has been registered regarding the same at Chessa outpost," the SP informed.
An APP team led by Vardhan coordinated with the Lakhimpur district police and carried out further legal proceedings.
A case of kidnapping and murder has been filed at the Simaluguri police outpost.