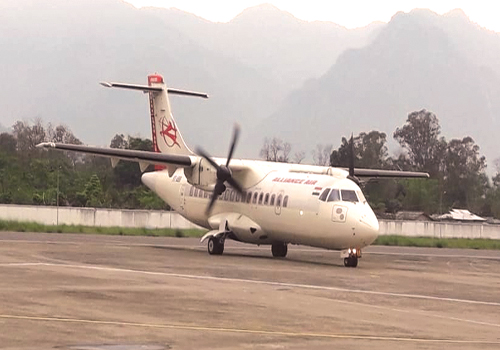 [ Amar Sangno ]
ITANAGAR, Aug 27: So long as the clouds hang low over Pasighat town, passengers will not be able to see Alliance Air's ATR-42, a small plane, manoeuvring high above the banks of the mighty Siang river.
Since 18 August, the station manager and passengers have been waiting for the ATR-42 to land at the Pasighat airport. Reportedly, there is frequent cancellation of the flight schedules, especially during cloudy and rainy days. The latest cancellation occurred on Saturday, when the flight made repeated attempts to land but had to turn back to Guwahati.
At least 22 passengers had to walk back home with their luggage.
After the Pasighat airport was upgraded from an advanced landing ground (ALG) years back, the ATR-42 services of the Alliance Air was flagged off by Chief Minister Pema Khandu on 21 May this year with much fanfare. Since then, Alliance Air has been operating from the Lokpriya Gopinath Bordoloi International Airport (Guwahati) thrice a week on alternate days – Tuesday, Thursday, and Saturday – but the service is facing hiccups related to cancellations.
It is said that the Pasighat airport has neither very high frequency (VHF) omni-directional range (VOR) nor instrumental landing system (ILS) and operates under visual flight rule (VFR) conditions.
Technically, it is said, in the VFR condition, the cloud ceiling should be at a minimum of 2000 feet altitude, with a visibility rate of five kilometres. In VOR conditions, the visibility may vary, depending on the flights.
For all-weather condition operation, the Pasighat airport needs ILS installation. It operates as a ground-based instrument approach system that provides precise lateral and vertical guidance to an aircraft approaching and landing on a runway, using a combination of radio signals and, in many cases, high-intensity lighting arrays to enable a safe landing during instrument meteorological conditions (IMC) such as low ceilings or reduced visibility due to fog, rain, or blowing snow.
"Unless we have VOR or ILS, frequent cancellation during low visibility is inevitable," said retired IAF captain Mohonto Pangging.
The ILS installation is primarily for safe landing; however, a 1000 feet airstrip clearance is mandatory in ILS installation, as high-rise buildings and trees obstruct the radar wave, which may lead to misjudgment and cause fatal accident.
The Pasighat airport reportedly failed in the mandatory criterion (1000 feet airstrip clearance) as there are a few structures within the periphery of the airport. However, when contacted, the East Siang deputy commissioner refused to comment on the issue.
Pasighat airport is among the ALGs/airstrips built for defence as well as civilian purposes during the pre-Independence period (along with Ziro, Aalo, Tuting, Mechuka, Vijaynagar, Walong, Tezu, Daporijo, and Alinye) in the state.
In the 1980s, small fixed-wing aircraft, called Vayudoot, operated in some the airstrips, like Ziro, Aalo, Pasighat, Tezu, etc, for civil passenger services.