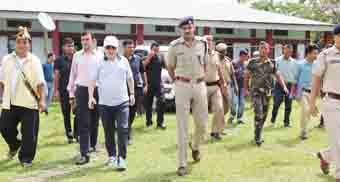 CHESSA, Sep 6: The vandalized police outpost here in Papum Pare district will be renovated and repaired soon, Environment & Forests Minister Nabam Rebia has said.
The outpost was recently vandalized by angry villagers, following the rape and killing of a girl child.
Rebia along with a team of officers including Capital Deputy Commissioner Prince Dhawan, SP M Harsha Vardhan, Banderdewa PS OC Kiksi Yangfo and others on Thursday inspected the damaged police outpost.
They held a meeting with the locals and requested them to maintain peace and tranquility. Rebia said damaging government property was not justified at all, and urged the people to treat government property as their own.
The residents of the area requested the administration to increase the strength of the police outpost and construct a boundary wall around the outpost at the earliest.